Expressive Art Therapy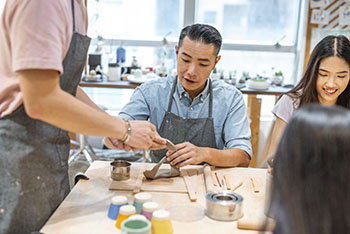 Children who are too young to articulate what they feel can share their experiences more easily through Expressive Art Therapy.
Adolescents who have been suppressing feelings for a long time, or are in such a confusing swirl of emotions that talking about them is difficult, often find expressive art therapy to be a very productive form of treatment.
Don't worry -- even if you draw stick figures, art therapy doesn't judge your creative ability. Instead, the visual story you compose enables you to gain new insights into your experiences and your distress.
Whether in your individual session or a group setting, art therapy assists in healing by unlocking what you may not have been able to give voice to before. Ask our psychotherapist if expressive art therapy would be helpful for you
Request Your Consultation Today!
To work with one of our mental health experts, call us today!